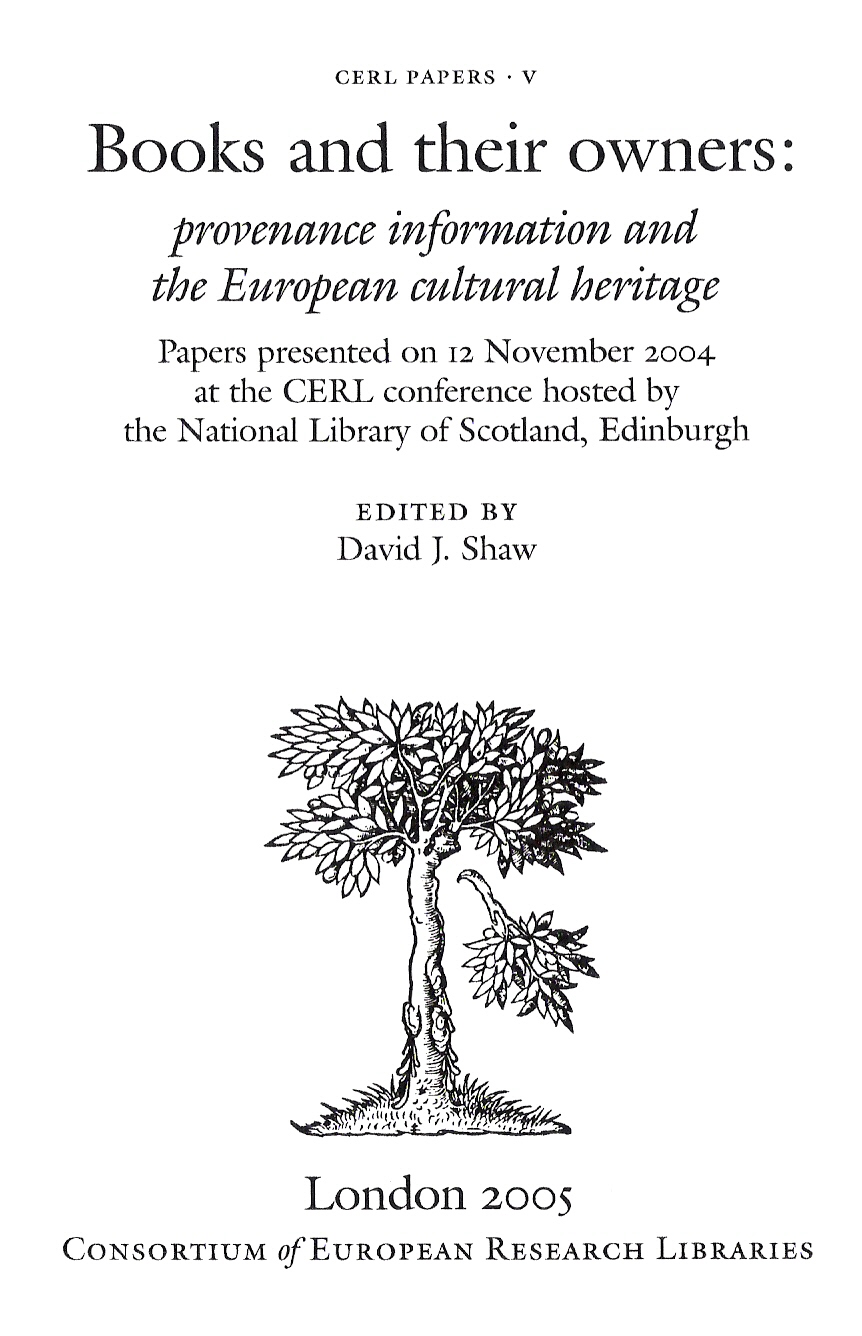 CERL Papers V
Books and their owners: Provenance information and the European cultural heritage (David Shaw, ed.).
Papers presented on 13 November 2004 at the CERL conference hosted by the National Library of Scotland, Edinburgh.
London, Consortium of European Research Libraries, 2005.
ISBN 0-9541535-3-7. [Eight papers in English.]
---
---
Contents
Dedication to Dr J. M. Smethurst, first Chairman of CERL.
Martyn Wade (National Librarian of Scotland): Welcome.
Ann Matheson (Chairman, CERL): Opening Address.
David Pearson (University of London Research Library Services): Provenance and rare book cataloguing: its importance and its challenges.
James Knowles (Keele University): Towards a national provenance project?: The database of book owners and collectors in Early Modem Scotland.
Marianna Czapnik (Warsaw University Library): Provenance research as a method for the reconstruction of historical collections.
Marina Venier (National Central Library, Rome): The computerised archive of owners in the older publications database of SBN: the experience of the National Central Library of Rome.
Jürgen Weber (Duchess Anna Amalia Library, Weimar): ProvenanceFinder – preparing a search engine for the retrieval of provenance data.
Bettina Wagner (Bavarian State Library, Munich): The incunable collection of the Bayerische Staatsbibliothek München and its provenances.
Helen Vincent (National Library of Scotland): Cataloguing the Fort Augustus collection: provenance in theory and practice.
Anette Hagan (National Library of Scotland): The library collections at St Benedict's Abbey, Fort Augustus.
publications/cerl_papers/cerl_papers_v.txt · Last modified: 2019/01/17 14:07 by hart
---