Other CERL Publications
Implementing Persistent Identifiers
Hans-Werner Hilse and Jochen Kothe, Implementing Persistent Identifiers: Overview of concepts, guidelines and recommendations. London / Amsterdam: Consortium of European Libraries and European Commission on Preservation and Access, 2006.
ISBN 90-6984-508-3.

The report can be downloaded as a PDF file directly via the following persistent identifier: http://nbn-resolving.de/urn:nbn:de:gbv:7-isbn-90-6984-508-3-8
---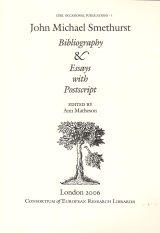 Bibliography of Michael Smethurst
John Michael Smethurst, Bibliography & Essays with Postscript (Ann Matheson, ed).
CERL Occassional Publications I. Compiled by Michael John Crump. Essays by Franz Georg Kaltwasser & John Winthrop Haeger. Postscript by Henry Leonard Snyder. London, Consortium of European Research Libraries / Online Computer Library Centre., Inc., 2006.
ISBN 0-9541535-4-5.
publications/other_cerl_pubs.txt · Last modified: 2016/10/06 19:40 by hart
---