CERL Thesaurus Help
Annotations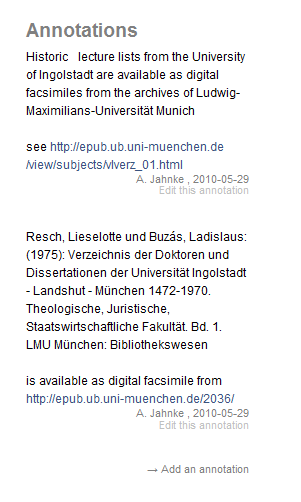 User may comment on any record in the CERL Thesaurus via its inbuild annotation feature (Scholar's Notepad), thus sharing insights on the described entity, information on scholarly communications or further information sources on it.
To add an annotation click Add an annotation at the bottom of the annotation area of a record's full display. A form will open where you can insert any text. Text formatting is limited to line breaks and bold script (by enclosing the *text* with asterisks). Hyperlinks are recognized automatically, if they are surrounded by blanks (and do not contain blanks) and start with http://.
In order to be able to edit your comment at a later point in time, you should insert a password of your choice in the password field. Please choose a password that you can remember easily while it is not easy to guess by others (Under no circumstances use your name or 'cerl'). A password-protected entry will have a link reading Edit this annotation below it. You may click this link, enter your password and make changes to your comment. Comments without a password cannot be edited once they have been saved.
CERL reserves the right to delete any comment, which it considers inappropriate (i.e. messages that are usually referred to as 'spam').
help/thesaurus/annotations.txt · Last modified: 2012/09/26 16:08 by baldwin
---