News 2015
January 2015
Job opening
CERL is seeking to appoint a Project Officer for the CENDARI project. The key aspects of the role are training, communication, awareness raising, dissemination and liaison. For more information see the job advertisement and/or contact Marian Lefferts (marian.lefferts@cerl.org).
New York, CERL Presentation
Columbia University, Butler Library. Our latest research activities and future plans presented by CERL's Secretary, Cristina Dondi, CERL Directors Richard Ovenden (Oxford) and Edwin C. Schroeder (Yale), and MEI Editor John Lancaster (for Smith College and Harvard collections). 22 January 2015.

February 2015
CERL receives Marie-Curie Award
In February 2015 Dott. Laura Carnelos (University of Venice Ca' Foscari) was awarded a 2-year Marie Curie Individual Fellowship to research at CERL, London office, under the supervision of Cristina Dondi, "PATRIMONiT. From Cheap Print to Rare ephemera: 16th-Century Italian 'Popular' Books at the British Library". Partner organisations are the British Library, London (Dr Stephen Parkin) and ICCU, Rome (Dott. Sara Servello). Read more...

Göttingen, Niedersächsische Staats- und Universitätsbibliothek
A workshop on Scientific Questions about Provenance and Their Requirements for Future Web and Database as part of the research project Development of interoperable metadata standards for the contextualization of heterogeneous collection objects, using the 18th century scholarly collection compiled by Georg Thomas von Asch as an example. Funded by the German Research Foundation (Deutsche Forschungsgemeinschaft, DFG). 24-25 February.
Programme and presentations.

March 2015
Provenance Conference, 11 March 2015, London
A coordinated approach to recording and searching provenance records and images: moving forward. Sponsored by IFLA RBSC, The Warburg Institute, CERL, 15cBOOKTRADE, CILIP. Read more...
Workshop on Researching and Recording Printers' Devices – New Perspectives, 17-18 March, Österreichische Nationalbibliothek, Vienna
The need to include images in the description of early printed books cannot be denied. Printer's devices combine pictures, texts (mottoes) and printer-related information in very elaborated and variable ways, which ask for specific bibliographical tools. This workshop provides an overview of what electronic data and knowledge experts in printers' devices hold. Admission free; please register at: secretariat@cerl.org. Read more...
May 2015
First Conference of the CERL Security Network
The conference on Library Security: Practices and Strategies will be hosted by the Vatican Library in Rome on Friday 8 May 2015. The programme is available here.

June 2015
LIGATUS/CERL Bookbinding Expert Seminars & Reception (23 June, Chelsea College of Arts, London)
Coming to Terms with the Language of Bindings Three expert seminars followed by plenary session with presentations by Prof. Pickwoad, Per Cullhed, Marian Lefferts and Kathleen Walker-Meikle. The day will end with a CERL Reception. The full programme is available here.
The morning seminars are limited to a maximum of 36 places at £18 each, including lunch. Please book in advance.
The plenary session and Ligatus/CERL reception are offered free, please register with secretariat@cerl.org
LIBER Forum for Digital Cultural Heritage (24 June, Senate House, London)
Seminar on The State of the Art in Image Recognition In this seminar we will explore the state of the art in image recognition, especially in terms of searching data, comparing and classifying images, and we will make an excursion to physical document structure visualization, which is quite a new field.
More information is available here.
Second CERL Internship and Placement Grant on offer
Each year, CERL awards one Internship and Placement Grant to the value of 1,000 Euros. Full details about the application procedure can be found here.
July 2015
CENDARI Summer School 2015
Researching Medieval Culture in a Digital Environment, Institute of Philosophy of the Czech Academy of Sciences, Prague, 20-24 July 2015. Co-organised by CERL's Project Officers Stijn van Rossem and Kathleen Walker-Meikle.
October 2015
CENDARI Expert Seminar
'Large-scale digital infrastructures and their users', The Hague, Koninklijke Bibliotheek, 6 October 2015

CERL Annual Seminar, 27 October 2015, Antwerp
The theme of the seminar was 'Library History: Why, What, How?' It was held at the University Library in Antwerp. The programme, biographies of the speakers and abstracts are available here.
New CERL Directors and Coordinating Committee member
At CERL's Annual General Meeting on 28 October 2015 two new members of the Board of Directors were voted in by the CERL membership. They are Dr Claudia Fabian (Bayerische Staatsbibliothek, Munich), and Dr Andrea De Pasquale (Biblioteca Nazionale Centrale, Rome). Ms Hege Stensrud Høsøien (National Library of Norway, Oslo) has joined CERL's Coordinating Committee.

November 2015
Praise for dissertation CERL's Project Officer Stijn van Rossem
Stijn van Rossem received on 12 November 2015 the Menno Hertzberger incentive (book history) prize for his dissertation titled: 'The fight with the books: the publishing strategy of the family Verdussen'. This family was active in the Antwerp book and printing industry for five generations, from 1589 to 1689.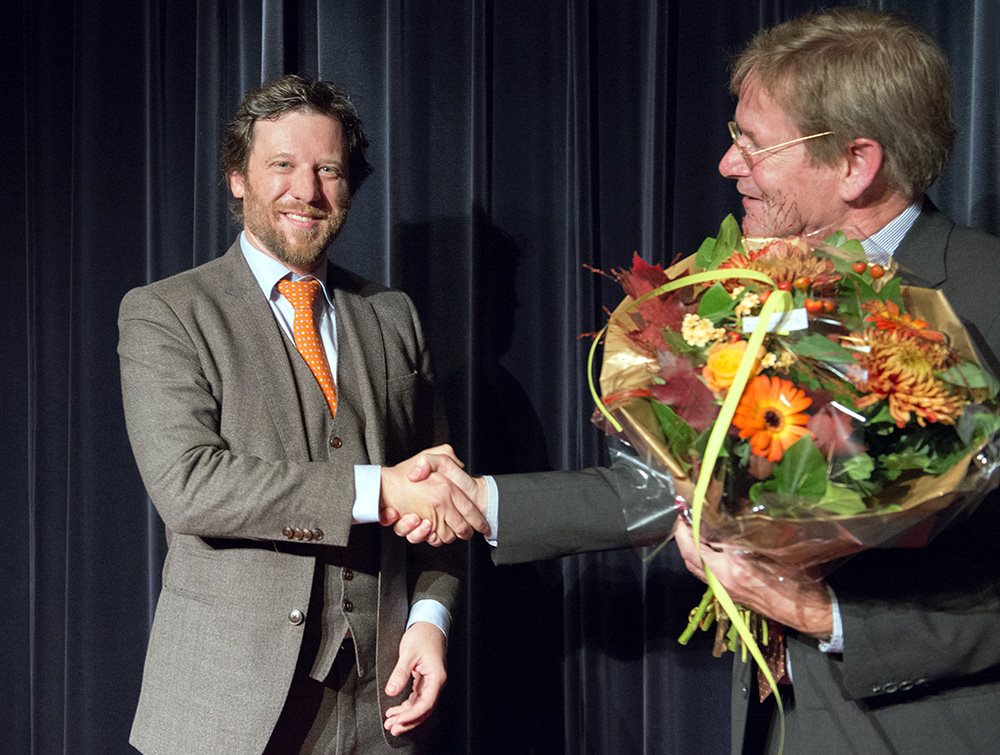 A presentation of CERL's research activities and future plans to Italian libraries
Rome, National Central Library,
Wednesday, 18 November 2015, 9:30-13:00.
The programme is available here.
December 2015
Manutius Network 2015
The Manutius Network 2015 is dedicated to the events for the commemoration (conferences, seminars, exhibitions) of the fifth centenary of Aldus's death. Please contact the CERL Secretariat to have your events posted here.
news/cerl_news_2015.txt · Last modified: 2016/02/03 15:54 by versprille
---