News 2013
September 2013
Senate House, London, proposes to sell four First Folios
The Bibliographical Society has set up a petition for those wishing to indicate their opposition to Senate House's intended sale for four Shakespeare First Folios: Petition.
"Thinking Again about the First Printing Revolution with Both Eyes on the Books: Venetian Evidence for Prices, Trade, and Use" by Cristina Dondi at Harvard University
CERL's Secretary, Dr Cristina Dondi, presented a paper on Monday 30 September 2013, at the Houghton Library, Harvard University. She also held a Workshop on Thursday, October 3, in the Houghton Library Seminar Room. The case of a dispersed collection between Harvard, Yale, Oxford and Florence is discussed in the Houghton Library blog, "Contributing data for greater understanding", introduced by William Stoneman, Curator of Early Books and Manuscripts.
CERL's Secretary awarded ERC Consolidator Grant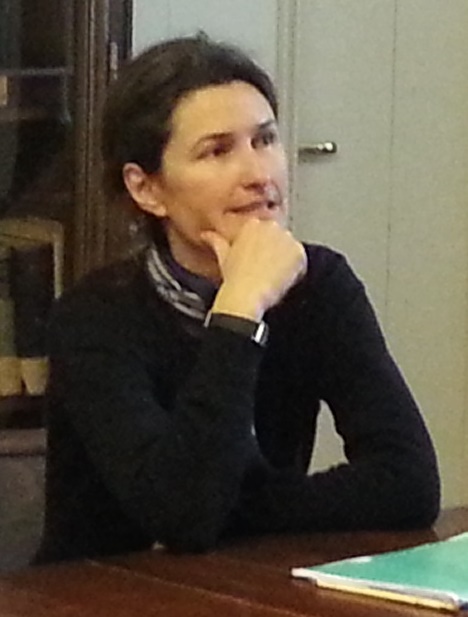 CERL's Secretary, Cristina Dondi, of the University of Oxford, has been awarded a European Research Council Consolidator Grant for her project: "The 15th-century Book Trade: An Evidence-based Assessment and Visualization of the Distribution, Sale, and Reception of Books in the Renaissance". The Grant is for five years. Read more...
April 2013
Illustrating the Early Printed Book
Hes & De Graaf Publishers, Koninklijke Bibliotheek, National Library of the Netherlands (KB) and the Dutch Book Historical Society (NBV) organised a conference on 12 April 2013 on the occasion of the publication of the long awaited revised edition of Ina Kok's Woodcuts in Incunabula printed in the Low Countries.
Read more...
Full programme published for CENDARI Summer School 2013
Hugh Denard, Graham Jefcoate, and Jay Winter are all confirmed to speak at "Historical Sources & Transnational Approaches to European History" in Florence this year. More details on the CENDARI website, where the programme is available for download and applications for places are now being received.
History of Libraries Research Seminars, University of London
A series of seminars, freely open to everyone, has been organised by the Institute of English Studies, School of Advanced Study, University of London. More information, including podcasts, can be found here.
March 2013
Press release: CERL and VZG unveil a new interface for the Heritage of the Printed Book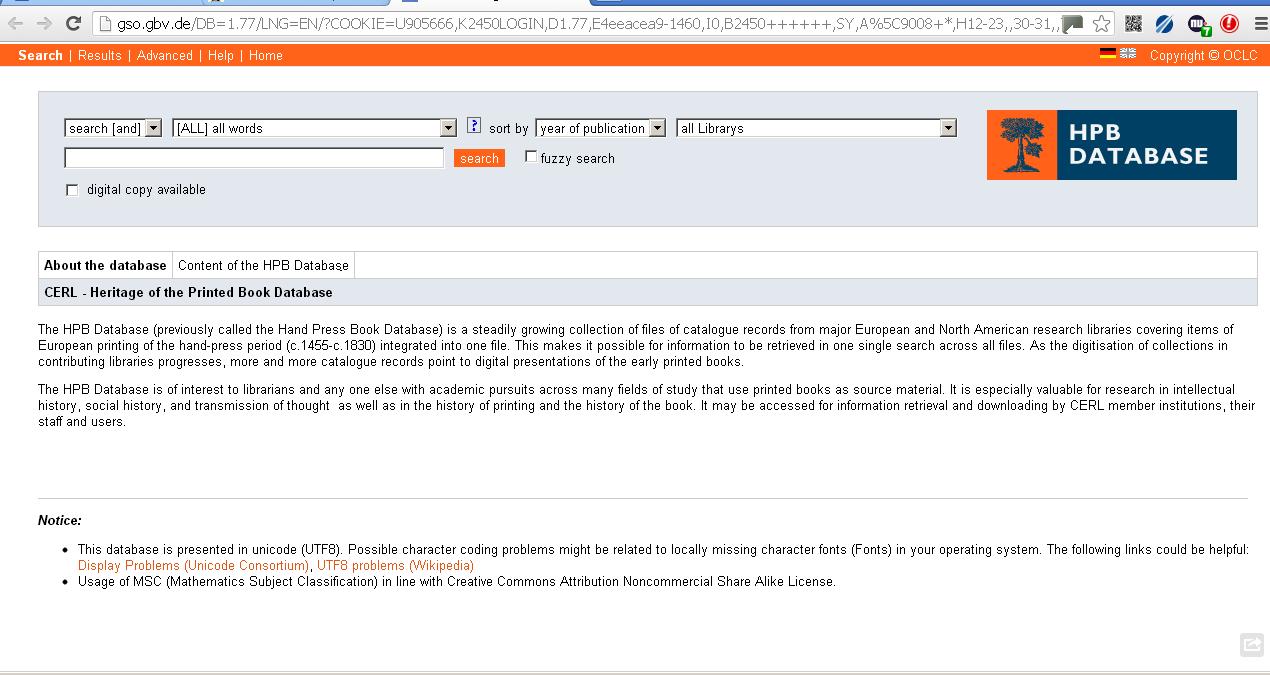 On 1 March 2013, CERL and the VZG launched the Heritage of the Printed Book database in its new environment at VZG, with newly converted and cleaned-up data. All CERL members have been sent their account information for accessing the HPB at http://hpb.cerl.org. In addition to access through the portal (see illustration), members are also offered Z39.50 and SRU access to the data.
At its new host, the HPB continues to offer simple, advanced and command line search. This is now complemented by several specific indexes, optimised for the retrieval of early printed materials, such as a Provenance index, an Imprint Name index, an index to support searching on Fingerprint information, and an index for bibliographic citation details. Researchers may limit their searches to only those records that refer to digital copies. The indexing of the HPB is very flexible: indexes can easily be refined, and further indexes can be added.
Much work has gone into a comprehensive display of record information, including the availability of a MARC record view. Non-roman scripts, such as Greek, Hebrew and Cyrillic, are displayed in combination with their Roman transliteration. Hierarchical records are clearly presented, ensuring greater visibility of relationships between records, and allowing for navigation both up and down the hierarchical structure. The interface offers convenient filtering of a results set: results can be broken down and viewed by language, country, or form of publication.
Contributors to the HPB see their collections presented in the wider European context, thereby offering the opportunity to demonstrate the richness of their collections. The accumulation of all these collections shows the diversity and coherence of our European cultural heritage, allows the study of the transmission and dissemination of texts in print, and through this the spread of knowledge and ideas.
Design
As part of a wider process overhauling CERL branding, a new orange and blue logo for the HPB database interface was designed by Judith Brüggenwirth. The customisable colours of the PICA interface were adapted to fit this colour scheme.
Further development
CERL Executive Manager, Marian Lefferts, praised the collaboration with the colleagues from the Data Conversion Group (who undertake all CERL's data preparation) and the VZG. They achieved this migration of the HPB from OCLC to VZG/GBV in a timely, reliable and professional manner. She noted that with the new host CERL was looking forward to adding functionalities, as well as aligning the HPB even more closely with researchers' needs. To date, colleagues have sent in favourable comments on the fresh 'clean' interface, the powerful advanced search options and the new specialist indexes on offer. CERL intends to add the Assisted Search functionality (supported by the CERL Thesaurus) later this year.
The Heritage of the Printed Book database (HPB)
The HPB Database (previously called the Hand Press Book Database) is a steadily growing collection of files of catalogue records from major European and North American research libraries covering items of European printing of the hand-press period (c.1455-c.1830) integrated into one file. This makes it possible for information, including availability of digital copies, to be retrieved in one single search across all files. The HPB was previously hosted at OCLC (Dublin, Ohio) and shall remain available through their FirstSearch environment until the end of March 2013. See also http://www.cerl.org/resources/hpb/main
Consortium of European Research Libraries (CERL)
CERL is a membership organisation. From 1992, CERL libraries in Europe and the United States have collaborated to build up the Heritage of the Printed Book database. In addition, CERL has developed further services such at the CERL Thesaurus, the CERL Portal for Early Printed Materials and Manuscripts, the Material Evidence in Incunabula database (MEI), and the regular publication of Newsletters and Conference Proceedings. See also http://www.cerl.org
Verbundzentrale des GBV (VZG)
VZG/GBV is firmly anchored in the library environment. It hosts the catalogue for libraries in Bremen, Hamburg, Mecklenburg-Vorpommern, Niedersachsen, Sachsen-Anhalt, Schleswig-Holstein, Thüringen and the Stiftung Preußischer Kulturbesitz (representing roughly half the academic libraries in Germany). It is also involved in developing the German national authority file (GND), hosts EROMM, and a number of other third-party databases. See also http://www.gbv.de/Verbundzentrale
For further information, please contact Marian Lefferts
news/cerl_news_2013.txt · Last modified: 2014/09/25 18:12 by hart
---