Ukraine
On 17 May 2023, the Council of Europe established a Register of Damages (based in The Hague)

A charity account, to support archival institutions in Ukraine, has been created by the State Archival Service.The aim is to help preserve the documentary heritage of Ukraine.
Saving Ukrainian Cultural Heritage Online (SUCHO) and NFDI4Culture collaborate to offer support to Ukrainian cultural heritage institutions in digitally preserving material heritage on the ground. The special focus of this new partnership is supplying digitization equipment, e.g. 3D and 2D scanners, computers and cameras, directly to the institutions that need it in order to preserve cultural heritage in danger of physical destruction in result of the constant destructive attacks of Russian military forces on Ukrainian territory. More information about donating digitisation hardware.
Hybrid event on 12 July 2022: Jewish Heritage in Ukraine: Buildings, Monuments, Museums and Libraries. Free registration

Petrella, Giancarlo. «Questi Non Sono Tempi per Libri» Il Patrimonio Incunabolistico Delle Biblioteche Ucraine. Con Una Nota Breve Di Erri De Luca." Napoli, Dante & Descartes, 2022 (2022): n. pag. Print.
Ukrainian Ministry of Culture documents war crimes on cultural institutions, including Libraries

A Guardian article on 'Crimes against history: mapping the destruction of Ukraine's culture' (24 April 2022)

Blue Shield Germany monitors damage here

The German Archaeological Institute (DAI) and ArcHerNet developed a network to save and safeguard acutely endangered cultural assets
CERL created an overview of Ukraine related records in the HPB and the CERL Thesaurus (8 April 2022), with further details in a blogpost (12 May 2022)

A Cultural Heritage Rescue Centre has been established at Lviv Polytechnic National University's Scientific and Technical Library (their Facebook page is here). It is coordinating the effort to distribute materials across the country. The site lists some the types of materials that could be sent, but also: fire blankets, fire extinguishers, packing crates. More information here.
KBR Brussels has created an online exhibition of 10 historical maps of Ukraine that illustrate its geopolitical history. And the University of Leiden has published Online exhibition Borderlands - Ukraine in historical maps
The Association of Canadian Archivists (ACA) will organise an Fundraising Campaign: June 6-10, 2022 International Archives Week (Ukraine does not have a national or even regional archival association to support the distribution of relief funding. Instead, the State Archival Service of Ukraine (SASU) is the primary umbrella institution under which resides Ukraine's 2,284 archives).

Twitter accounts to follow
@OksanaBrui, Oksana Bruy is President of Ukrainian Library Association, Library Director of Igor Sikorsky Kyiv Polytechnic Institute

@ukrainelibrary, Ukrainian Library Association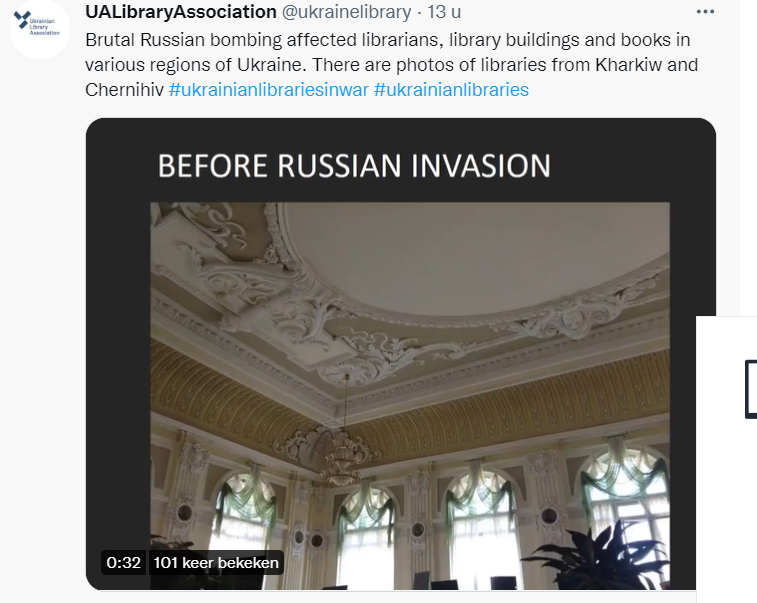 ALIPH - International Alliance for the Protection of Heritage in Conflict Areas offers grants.

Blue Shield has started a survey to Track Conservation Shipments. This in order to avoid duplication in responses to requests for aid, while other responses are left unanswered.

The Swiss National Library SNL endorses the joint position of the Conference of Directors of National Libraries (CDNL). The CDNL states that the current military aggression against Ukraine threatens the country's intellectual and cultural heritage as much as its population. As a small sign of solidarity, the SNL offers to temporarily provide the Ukrainian National Library with air-conditioned storage space for documentary cultural heritage. Contact (29 March 2022)
A MOOC presented by the Ukrainian Institute: Ukraine: History, Culture and Identities
Saving Ukrainian Cultural Heritage Online (SUCHO) is a distributed project to capture, archive and preserve digital cultural materials from Ukraine and relating to the war in Ukraine.
23 March 2022 press release from the 4CH project about SUM, an initiative which is saving digital documentation of Ukrainian cultural heritage. Behind the scenes an international task force has been reaching out to colleagues in Ukraine and transferring datasets for safe storage. At present there are about 100 Terabytes in the queue or already transferred, involving large institutions and organizations or relatively small museums outside of the major centres. All are equally important. Read the full press release: https://www.4ch-project.eu/sum/
OPERAS, the European Research Infrastructure for the development of open scholarly communication in the social sciences and humanities, issued a statement (14 March 2022).
Our partner organisation, EBLIDA, has opened up a webpage for exchange on ways libraries are proposing to help the people of Ukraine (e.g. offering education, access to information, providing books, and more): http://www.eblida.org/libraries-for-ukraine.html.

CILIP, the UK Library and Information Association, have created a Ukraine Crisis Hub.

OCLC statement (4 March 2022)

LIBER statement (2 March 2022)

IFLA statement (1 March 2022)

Message sent to CERL members by CERL Chairman, Kristian Jensen (1 March 2022).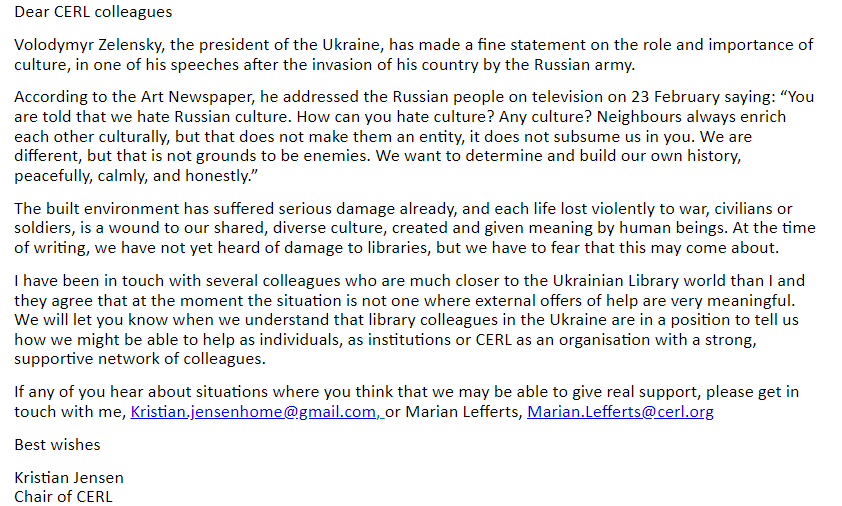 On 28 February 2022, Oksana Brui, President of the Ukranian Library Association (https://ula.org.ua/en/) issued a statement: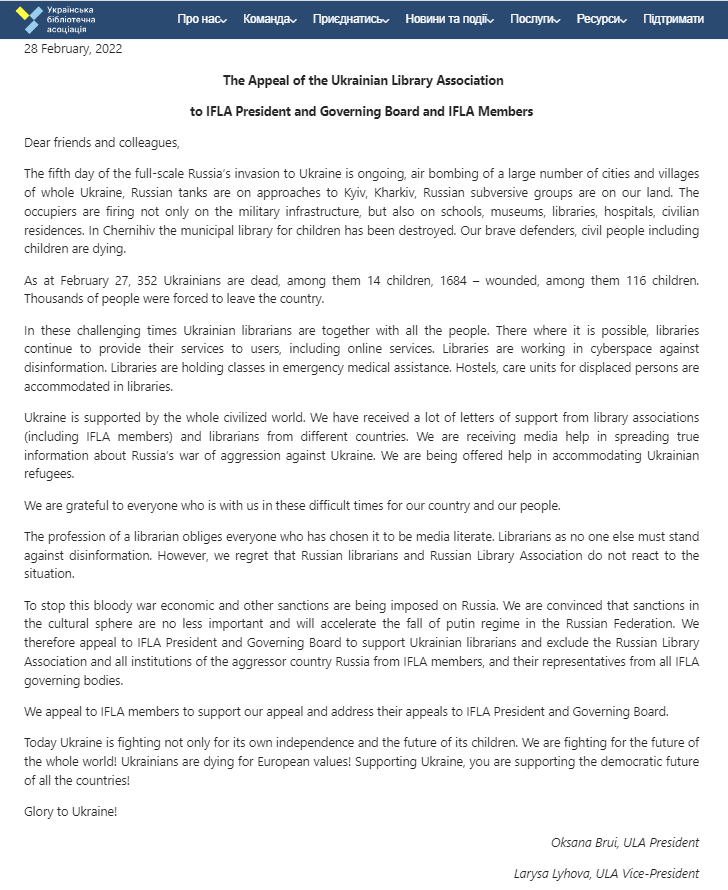 On 25 February, Peter Stone, the President of Blue Shield issued a statement: 'the Blue Shield is extremely concerned regarding the escalating conflict in Ukraine. We ask all those involved to obey all relevant international law and to protect the civilian population wherever and whenever possible. We stress in particular the responsibilities of all involved under the 1954 Hague Convention on the Protection of Cultural Property in the Event of Armed Conflict and its two Protocols of 1954 and, where relevant, 1999.The Blue Shield stands ready to assist anyone involved in the conflict to protect cultural property in Ukraine and to work towards an immediate end to the conflict.'
The Vernadsky National Library of Ukraine, in Kyiv. Its collection holds more than 15 million items, making it the 20th-largest library in the world.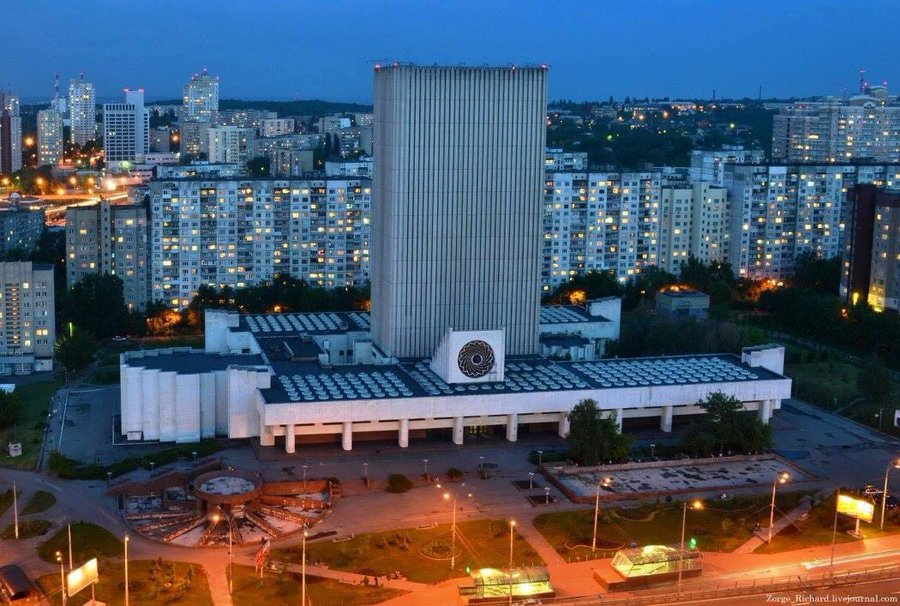 Among the holdings of the National Library of Ukraine is the 16th century Peresopnytsia Gospel, on which Ukrainian presidents, including Volodymyr Zelensky, have taken the oath of office.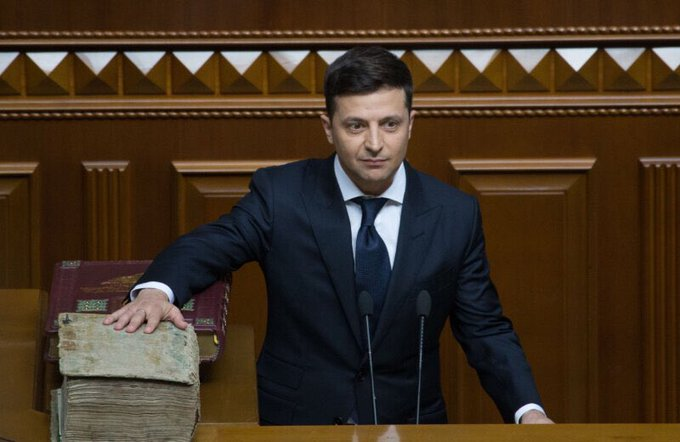 collaboration/ukraine.txt · Last modified: 2023/05/17 13:09 by lefferts
---