Promoting Europe's cultural heritage in print and manuscript
CERL seeks to share resources and expertise between research libraries with a view to improving access to, as well as exploitation and preservation of the European printed heritage in the hand-press period (up to c. 1830). The organisation was formed in 1992 on the initiative of research libraries in many European countries and legally came into being in June 1994. For a good overview of CERL services and activities see, Ingeborg Versprille, Marian Lefferts and Cristina Dondi, 'The Consortium of European Research Libraries (CERL): twenty years of promoting Europe's cultural heritage in print and manuscript', in 027.7 Zeitschrift für Bibliothekskultur, 2,1 (2014): Konsortien & Konsorten, pp. 30-40. Online journal of the University of Basel, Switzerland, ISSN 2296-0597. Read more...
For more news you can join the CERL mailing list: please contact secretariat@cerl.org.
CERL Networks
Seminars and Workshops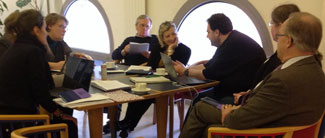 CERL organises frequent
seminars and workshops
which address topical issues relating to the care of our heritage collections. The presentations held at the CERL Seminar on
Library History: Why, What, How?
are available here
European Projects

CERL is involved in several funded projects.
Read more...
Other News
CERL Papers XIII - Signa Vides - Researching and recording printers' devices
The latest volume of CERL papers is now available. The papers were presented at the CERL Workshop hosted by the National Library of Austria, Vienna on 17-18 March 2015, and can be downloaded here.

In memoriam - Raymond Bérard
We were sad to have been informed of the recent passing away of our former Treasurer Raymond Bérard. He served CERL splendidly as our Treasurer for six years and made excellent contributions in France and internationally in his positions in ABES and during later years INIST. His sound judgement and friendly attitude made an important impact on CERL, and it is very sad that we will not be able to greet him, as he and all of us had hoped, at our Paris meeting in October.


Wroclaw Seminar on Provenance
The Ossoliński National Institute held a conference of the Group of Polish Research Libraries Collecting Early Imprints under the title "Old books and their owners – the current state of research, catalogues, perspectives" on 29 September-1 October 2016. Details are available here.



CERL 2016 Annual Seminar
Paris, Bibliothèque nationale de France (Tolbiac), Thursday 20 October 2016.
The theme of the seminar is 'Manuscrits: innovation et coopération / Manuscripts: innovation and collaboration.' Programme.

Manutius Network 2015-2016
The Manutius Network is dedicated to the events for the commemoration (conferences, seminars, exhibitions) of the fifth centenary of Aldus's death. Please contact the CERL Secretariat to have your events posted here.
This site is archived as part of the initiative of the UK Web Archiving Consortium
main.txt · Last modified: 2016/10/12 23:11 by hart
---